What's included in these MVP Offseason Workouts for Basketball?
Here's what you get:
– 18 carefully designed, 66 minutes* basketball workouts in this ebook
– Minute-by-minute breakdown of activities for each workout session
– Activities rotate from one to the next quickly to keep players interested and for the aerobic benefit. – Illustrations to help understand activities and an appendix with more detailed explanations on drills.
– Designed for either a 6 weeks time period with 3 sessions each week or a 9 weeks time period with 2 sessions each week. Players who play another sport in the offseason frequently find the 9 weeks time period works best.
– An inspirational story and quote for each workout
Prior to each workout we recommend players read the stories and quotes. Life lessons like never quitting, overcoming obstacles and the power of persistence are reinforced.
– Information young basketball players should know.
Basketball Offseason Training Topics include:
What Coaches Like
Nutrition Advice to help you Play your Best
Set Goals to Achieve More
The importance of rest and sleep
The value of the student athlete
– MVP Tips. Includes insider secrets to rebounding successfully, targeting your shots (aim small, miss small), shooting free throws more effectively, the importance of the first dribble, and many more.
——————-
MVP Offseason Workouts for Youth Basketball
Players get pumped up for their workout sessions with an inspirational story and quote.
Each workout session is 66 minutes long and begins with a warm-up.
Sample: Offseason Basketball Workout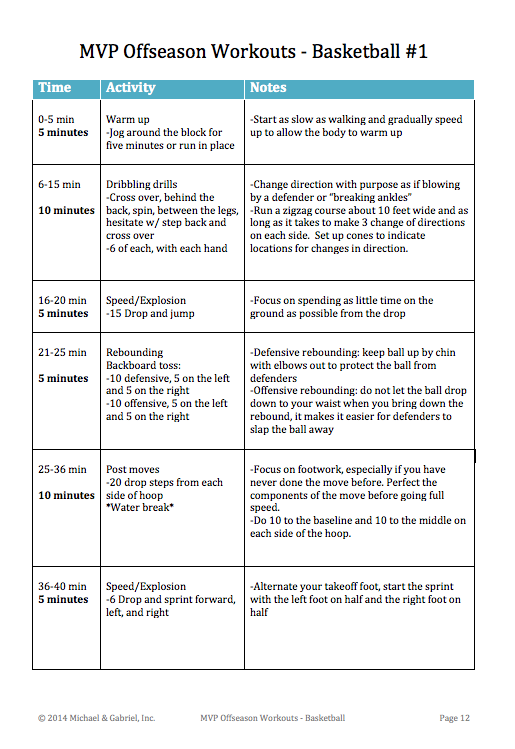 An Appendix in the back includes illustrations to help players understand each exercise. Here's a sample for two ball dribbling.
Other important topics are addressed related to nutrition, goal setting, getting rest, the importance of being a good student/athlete and what coaches like from players. Here's an excerpt:
Sample of other advice provided to players: "10 Things Coaches Like" excerpt
MVP Offseason Workouts $23.99 – Available instantly
MVP Offseason Workouts for Youth Basketball — $23.99